Open Event: Wednesday 15th
We are delighted to invite you to our CAO Information Evening on Wednesday January 15th. This is a great opportunity for you to attend programme-related talks on the night, and to assist you in making your CAO programme selection.
We will also have Students, Academic staff and Administrative staff on hand to answer your questions about the degrees, facilities and supports we offer.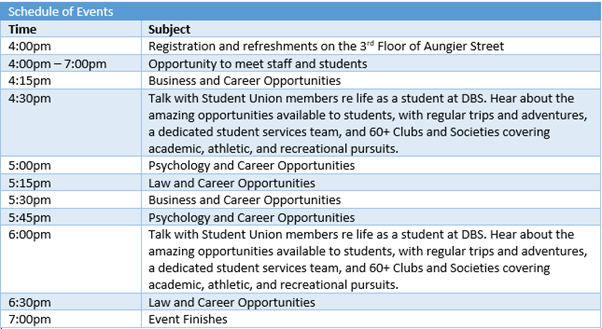 Important Update for September 2020:
DBS is delighted to announce it will be offering free tuition fees on four of its programmes through CAO as part of additional places under the Government Human Capital Initiative (HCI). The four DBS courses below will now be eligible for "Free Tuition Fees":
BSc (Hons) Computing (CAO code: DB500)
BSc (Hons) Computing (Data Analytics and Big Data) (CAO code: DB502)
BA (Hons) Business (Information Systems) (CAO Code: DB524)
BA (Hons) Business (Cloud Computing) (CAO Code: DB526)
There will be no tuition fees on the above four programmes only through CAO. Students will only have to pay a €1,500 registration fee if succesfully offered a place at DBS in 2020 through CAO. This is open to all EU students applying through the CAO. Tuition fees will apply to all other programmes.
If you have any questions please contact Charlotte, our Schools Liaison Officer, on Charlotte.hickey@dbs.ie or +353 1 417 7500.
Event Details:
Date: Wed 15 January, 2020 from 4:00 PM to 7:00 PM
Location: 13/14 Aungier Street, Dublin D2
Add to Calendar
Data Protection: As the protection of your data is important to us, we have included our policies regarding data in a Data Protection Statement and Privacy Policy, which you can access by visiting www.dbs.ie